Gardellia Mainlines Island Line
Jump to navigation
Jump to search
Gardellia Mainlines - Island Line



Tracks near Ember Coast at dawn

Overview
Type
Commuter Rail
System
Gardellia Mainline
Status
Operational
Termini
Caerdyfrdwy
Gardellia Central Station
Stations
-
Services
1
Operation
Opened
August 2017; 2 years ago
Operator(s)
TransHaven
Character
Mostly Underground
Depot(s)
N/A
Rolling stock
-
Technical
Line Length
-
Track gauge
1,435 mm (4 ft 8 1⁄2 in) standard gauge
Electrification
750 V DC
Operating speed
215km/h (134 mph)
Route Map
-
Formerly known as the Gardellia Mainlines Orange Line, the Gardellia Mainlines Island Line is one of the seven Gardellia Mainlines in service.
Running in a general East-West direction, the Island Line connects Gardellia Main City to Caerdyfrdwy, and will eventually extend further south to the future Gardella-Westlandia Airport.
The line is coloured in orange on the mainline map.
Alignment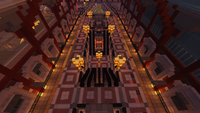 Starting from Gardellia Central station as the southern termini, the Island line platforms are at a lower level of the station. It continues in tunnel to Castelnau Le Lez, heads west, and surfaces just before Gospley. The line is in a cutting and goes in tunnel again to Palm Ridge. Beyond Palm Ridge, it emerges in the southwest and arrives elevated at Ember Coast. As the line heads west to the islands, it dives into a tunnel, passing through Lion Island and Wadiya. The tunnels then turn right (north) to arrive at Caerdyfrdwy in a cutting. The platforms there are adjacent to the Circular Line.
History
When New Gardellia opened in December 2016, several players decided to settle into a few islands west of Central City. These islands, however, were not connected by any means of transport. When more towns such as Ember Coast moved in along the alignment, the government began to propose a direct line to serve these populated towns. Cloudcastle was given the contract to complete the line in phases. The first phase between IS-N8 Caerdyfrdwy Canolig and IS-N4 Ember Coast started works in April 2017. Phase 2, between Ember Coast and IS-N2 Gospley, was constructed in June 2017; phase 3 was the stretch to City Hall and was completed in August 2017. The entire line opened inline with the completion of Phase 3.
Stations
Station Number
Station Name
Station Claimant
Interchange/Notes
 GC 
Gardellia Main Station
Gardellia
Interchange station with

North-West

,

Central Peninsular

,

Northern Connector

and

North-East

lines
 IS-N1  NW-N1  NE-N1 
 CP-N1  NC-N1 
Castelnau Le Lez
SilverWolv
 IS-N2  NW-N2  CP-N2 
 NC-N2 
Gospley
Minebuilder1223
Interchange station with

North-West

,

Central Peninsular

, and

Northern Connector

lines
 IS-N3  NW-N3  NC-N3 
Palm Ridge
_LaundryLater_ (Tony515)
Interchange station with

North-West

, and

Northern Connector

lines
 IS-N4 
Ember Coast
Starcubed
 IS-N5 
Lion Island
_ezzo
 IS-N6 
Wadiya
TheLamborghini
 IS-N7 
Provisional Station
 IS-N8  CC-N1 
Caerdyfrdwy
minebuilder1223
Interchange station with

Circular

line
Rail transportation in Gardellia
Gardellia Mainlines
Private Inter-city Railways
Carrington Metro
New Toronto Metro

Current

 City Line 

Future

 Clairemount Line  •  Forest Line 

Harton on the Hill Metro
Cranbrook Automated Transit System
Nelsonburg U-Bahn
Clexio Bay Metro
Woo Light Rail