Potus
| | |
| --- | --- |
| | This article is under Construction. You may help by adding more details to the page. |
Potus (La. POTVS)
Overview
Founder
Delfino88
Founded
24th August 2018
Driving Side
Right
Official Discord
https://discord.gg/sWv79XW
Administration
Mayor
Delfino88
Upper Council
Senatus

Baymax
BlueEon
Boomdoom
Delfino88
Derwurzelkater
MrMallardCanada
Panda
Pinguino82
SheepCanEatBeef
Tomi

General Information
Code
PO
Public Holiday
24th August
Potus is a city in Gardellia located in the North-West, near Sint Maartenstad and Seaside
History
Potus was founded on 24th August by Delfino88, after his unbanning from the server. The location of the new city was chosen by him and Panda, hence the two cities of Potus and Sint Maartenstad are close to each other on the Flumen Paludis.
Transportation
SMP Metro
As of October, the city has a main metro connection with Sint Maartenstad (Line M1), a future road connection between the two cities might be made in the future. The M1 passes through Potus in the station of Forum.
Tram
The city has currently 4 tram lines serving the centre and the suburbs.
Location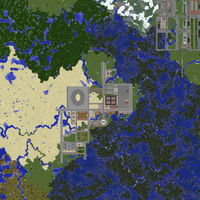 Nearby Cities
| | City name | Mayor | CC |
| --- | --- | --- | --- |
| | Sint Maartenstad | HurricanePanda08 | SM |
| | Seaside | MallardTrainMan | SE |
| | New Brighton | boomdoom_ | NB |
| | Abaki | OscarTheOscar_ | AB |
| | Konstanz | Mopsistudios | KN |
| | Forbach | Mopsistudios | FB |
Buildings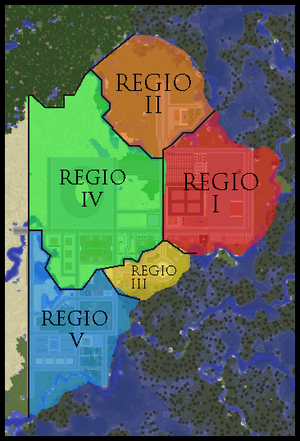 Latrinae

    

Companies

    

Government

    

Residences

    

External
Building Name
Building Type
Owner
Regio
Insula
Aedificium
Codex
Code
REGIO I
Domus
Domus
HurricanePanda08
I
I
I

 #PO-I-I-I 

#PO-1-11
Domus
Domus
leon100906
I
I
II

 #PO-I-I-II 

#PO-1-12
Apud Flumen
Taberna
AF-Societas
I
I
III

 #PO-I-I-III 

#PO-1-13
LAT-ApudFlumen
Latrinae
POTVSSOCIETAS
I
II
I

 #PO-I-II-I 

#PO-1-21
Horreum-ApudFlumen
Horreum
City of Potus
I
II
II

 #PO-I-II-II 

#PO-1-22
TBT Mall
Mall
The BoomDoom Theory
I
II
III

 #PO-I-II-III 

#PO-1-23
Insulae-ApudFlumen
Insulae
City of Potus
I
III
I

 #PO-I-III-I 

#PO-1-31
Domus
Domus
Tomi_Crosoft
I
III
II

 #PO-I-III-II 

#PO-1-32
City Hall
Gov. Building
City of Potus
I
III
III

 #PO-I-III-III 

#PO-1-33
Bwakkus
Templum
City of Potus
I
IV
I

 #PO-I-IV-I 

#PO-1-41
Potus Central Station
Station
SMP
I
V
I

 #PO-I-V-I 

#PO-1-51
REGIO II
LAT-Maris
Latrinae
POTVSSOCIETAS
II
I
I

 #PO-II-I-I 

#PO-2-11
Domus Maris
Domus
-
II
I
II

 #PO-II-I-II 

#PO-2-12
Appartamentum
Domus
-
II
II
I

 #PO-II-II-I 

#PO-2-21
Appartamentum
Domus
-
II
II
II

 #PO-II-II-II 

#PO-2-22
Domus
Domus
-
II
IV
I

 #PO-II-IV-I 

#PO-2-41
Domus
Domus
-
II
IV
II

 #PO-II-IV-II 

#PO-2-42
Domus
Domus
-
II
IV
III

 #PO-II-IV-III 

#PO-2-43
To be named
Restaurant
To be defined
II
IV
IV

 #PO-II-IV-IV 

#PO-2-44
Domus
Domus
-
II
V
I

 #PO-II-V-I 

#PO-2-51
Domus
Domus
-
II
V
II

 #PO-II-V-II 

#PO-2-52
Domus
Domus
-
II
V
III

 #PO-II-V-III 

#PO-2-53
To be named
Restaurant
To be defined
II
V
IV

 #PO-II-V-IV 

#PO-2-54
REGIO III
Arcum De Potu
Monument
City of Potus
III
-
-
-
-
LAT-SpatiumNovum
Latrinae
POTVSSOCIETAS
III
I
I

 #PO-III-I-I 

#PO-3-11
Domus
Domus
BoomDoom_
III
I
II

 #PO-III-I-II 

#PO-3-12
Building
[???]
-
III
I
III

 #PO-III-I-III 

#PO-3-13
REGIO IV
Insulae Flumenis I
Insulae
City of Potus
IV
I
I

 #PO-IV-I-I 

#PO-4-11
Insulae Flumenis II
Insulae
City of Potus
IV
I
II

 #PO-IV-I-II 

#PO-4-12
Insulae Flumenis III
Insulae
City of Potus
IV
I
III

 #PO-IV-I-III 

#PO-4-13
Insulae Flumenis IV
Insulae
City of Potus
IV
I
IV

 #PO-IV-I-IV 

#PO-4-14
LAT-Flumenis
Latrinae
POTVSSOCIETAS
IV
I
V

 #PO-IV-I-V 

#PO-4-15
Domus Aiae I
Insulae
-
IV
II
I

 #PO-IV-II-I 

#PO-4-21
Domus Aiae II
Insulae
-
IV
II
II

 #PO-IV-II-II 

#PO-4-22
Domus Aiae III
Insulae
-
IV
II
III

 #PO-IV-II-III 

#PO-4-23
Domus Aiae IV
Insulae
-
IV
II
IV

 #PO-IV-II-IV 

#PO-4-24
Campus
Test Area
City of Potus
IV
III
I

 #PO-IV-III-I 

#PO-4-31
Domus
Domus
BlueEon
IV
III
II

 #PO-IV-III-II 

#PO-4-32
LAT-Arcum
Latrinae
POTVSSOCIETAS
IV
III
III

 #PO-IV-III-III 

#PO-4-33
Sugar-Cane Farm
Farm
BoomDoom_
IV
IV
I

 #PO-IV-IV-I 

#PO-4-41
Amphitheatrum Delinum
Public Attraction
City of Potus
IV
V
I

 #PO-IV-V-I 

#PO-4-51
REGIO V
Building
[???]
-
V
I
I

 #PO-V-I-I 

#PO-5-11
Domus
Domus
-
V
I
II

 #PO-V-I-II 

#PO-5-12
Taberna Pauperum
Taberna
TP-Restauratio
V
I
III

 #PO-V-I-III 

#PO-5-13
Pagus Villici
Pagus
Villici
V
II
-
-
-
Insulae
Insulae
-
V
IV
I

 #PO-V-IV-I 

#PO-5-41
Negiotium A
Shop
Tomi_Crosoft
V
V
I

 #PO-V-V-I 

#PO-5-51
Negiotium B
Shop
-
V
V
II

 #PO-V-V-II 

#PO-5-52
Negiotium C
Shop
GARVM
V
V
III

 #PO-V-V-III 

#PO-5-53
Negiotium D
Shop
-
V
V
IV

 #PO-V-V-IV 

#PO-5-54
LAT-Pagus
Latrinae
POTVSSOCIETAS
V
VII
I

 #PO-V-VII-I 

#PO-5-71
LAT-Statua
Latrinae
POTVSSOCIETAS
V
VII
II

 #PO-V-VII-II 

#PO-5-72
Garum
Offices
GARVM
V
VII
III

 #PO-V-VII-III 

#PO-5-73
TransPotus
Offices
TRANSPOTVS
V
VII
IV

 #PO-V-VII-IV 

#PO-5-74