Vincennes Rapid Transit
Jump to navigation
Jump to search
Vincennes Rapid Transit
Location
World
Gardellia
City
Les Vincennes Bay
Information
Track length
Less than 1km
Owned by
Viniture Inc.
Vincennes Rapid Transit, or known as VRT in short, is a mass rapid transit system located in Les Vincennes Bay and managed by Viniture Inc. There is 1 train line and 1 bus line in total as of August 2019.
History
Les Vincennes Bay originally was intended not to have too many metro lines for maximum efficiency of public transport. As crosseastern was opened in 2017, this has further postponed any development on a new train line through the city. A bus line was instead planned along the trunk routes of the city.
There were delays in road expansion, and infrastructural development became stagnant in LV Bay for a year. This has caused a sharp rise in demand in the need for public transport. There were a few factors which contribute to this problem. For the first operational period of Crosseastern, customers were generally satisfied. However, services have deteriorated and trains were not utilised to its potential. Passengers begin to complain about the slow speeds on obvious straight sections, and many stations have lack of accessibility. Some also had poor lighting.
Original plans to materialise bus routes connecting neighbouring towns Ipswich and Pellegroine were to have a few of these introduced in summer 2018. Unfortunately, the roads were incomplete and there were numerous regeneration projects ongoing at neighbouring towns.
In January 2019, the transport authority decided to finalise the route of the first VRT train line, which is to be named, the Central line. A total of 5 stations were planned, starting at Sewell Green and ending at Epping, a new development in the northeastern plains. The line was planned to have a question mark alignment, skipping the spruce forest.
On the 28th of February, it was decided that a new bus route would open before the Central line would open. By then, construction started between Sewell Green and Tower Plaza. This section is to be known as Phase 1. In March, road infrastructure had achieved a big milestone - the first road connecting LV Bay and Ipswich Garden City was completed. VRT also officially released the bus line numbered route 10. The 4 stations served by this route are Ipswich Mainline, Verdsta North, Verdsta Market and Tower Plaza. It finally opened on 14 April 2019, a few days after the bus stops were fully completed and its surroundings paved.
Meanwhile, the transport authority announced on 1 April that the alignment from Tower Plaza to Epping has been changed. This is due to the planned demolition of rowhouses which would have been served by one of the stations along the line. This area has been converted into a primary industrial zone. The new alignment would follow a straighter route, with two intermediate stations before terminating at the final stop. The development board has changed their mind to rename Epping.
Most of the engineering works were completed by the end of June, where the Sewell Green to Tower Plaza section was ready to open. In conjunction with the completion of the parliament building facade, the line was planned to open on the last day of June. However, it was delayed to ensure the safety of passengers. The supports were thoroughly checked, especially at the Leighbury Park crossover and Tower Plaza station. The former was directly next to the parliament building support while the latter has stacked platforms and was directly underneath the Crosseastern platforms. Vibration tests were successful and the line finally opened on 27 July 2019, over a month after the completion of the facade.
Station Architecture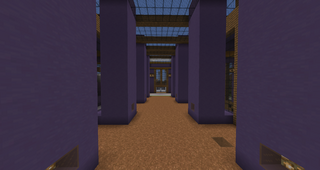 Currently, all stations are modern-styled and has a unique colour scheme. Tower Plaza is mainly themed orange, with leaves harmonising the acacia wood planks. The station entrances are simple; one based on Green Park with long ramps, another with an S canopy. Leighbury Park has the entire station building fitting into the remaining plot area next to Leighbury Modern Shoplot, which was originally old shophouses. Due to the sinking ground, it is decided to strengthen the station with large pillars, reaching all the way down to platform level. Hence, the station has a ticket hall with high ceiling. The station is painted with brown, blue and yellow, with 4 exits. Entrance A is notable, with a long ramp down to the ticket hall. Sewell Green focuses on red and has a simple entrance, with an underground concourse having red sandstone ceiling.
Information
Trains
The Central line is coloured red, and currently has 3 stations which are Sewell Green, Leighbury Park and Tower Plaza.
Frequency:
Weekdays:

5.30am-7am: Every 7 minutes
7am-9am: Every 3 minutes
9am-5.15pm: Every 8 minutes
5.15pm-7.15pm: Every 5 minutes
7.15pm-10pm: Every 10 minutes
10pm-12.30am: Every 20 minutes
Saturdays:

5.30am-7am: Every 10 minutes
7am-7.15pm: Every 6 minutes
7.15pm-10pm: Every 15 minutes
10pm-12.30am: Every 20 minutes
Sundays and Public Holidays:

5.30am-7am: Every 10 minutes
7am-10pm: Every 7 minutes
10pm-12.30am: Every 20 minutes
Bus
Currently, Route 10 has 4 stations, namely Tower Plaza, Verdsta Market, Verdsta North and Ipswich Mainline Station.
Frequency:
Weekdays:

6am-7am: Every 10 minutes
7am-9am: Every 5 minutes
9am-5.30pm: Every 10 minutes
5.30pm-7.30pm: Every 7 minutes
7.30pm-10.30pm: Every 15 minutes
10.30pm-12am: Every 30 minutes
Weekends:

6am-7.15am: Every 15 minutes
7.15am-9.15pm: Every 10 minutes
9.15pm-12am: Every 30 minutes
Rail transportation in Gardellia
Gardellia Mainlines
Private Inter-city Railways
Carrington Metro
New Toronto Metro

Current

 City Line 

Future

 Clairemount Line  •  Forest Line 

Harton on the Hill Metro
Cranbrook Automated Transit System
Nelsonburg U-Bahn
Clexio Bay Metro
Woo Light Rail