WolvHaven Metro
From Wolv Haven Wiki
This article is about the current WolvHaven Metro. For the previous WolvHaven Metro, see City Area Rapid Transit (CART).
The WolvHaven Metro is a rapid transit system serving WolvHaven, covering almost every square kilometre of the nation. When the entire system is complete, the system will have 11 metro lines and will serve the 4 islands of the city-state.
Lines
There are currently 10 lines of the WolvHaven Metro in operation. For the current status of these lines, check here.
Stations
---
---
---
---
---
---
---
---
---
---
Rolling Stock
The WolvHaven Metro operates 2 types of trains - Rubber tyre and steel wheel trains.
Rubber Tyre (Pneumatic Metro)

PM5 (Retired)
PM10 (Retired)
PM20 (Retired)
PM25AM/A
PM25BM/A
PM25CM/A (Future)
Steel Wheel (Steel Metro)

SM5 (Retired)
SM15 (Retired)
SM20 (Retired)
SM25A(Retired)
SM15A
SM25B
SM25CM/A
SM25DM/A (Future)
SM37A (for Airport Express)
System Map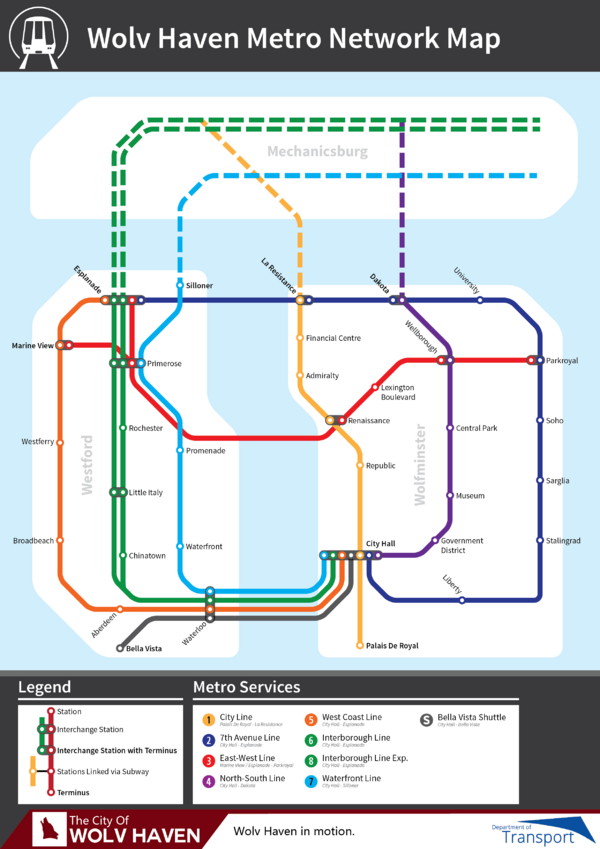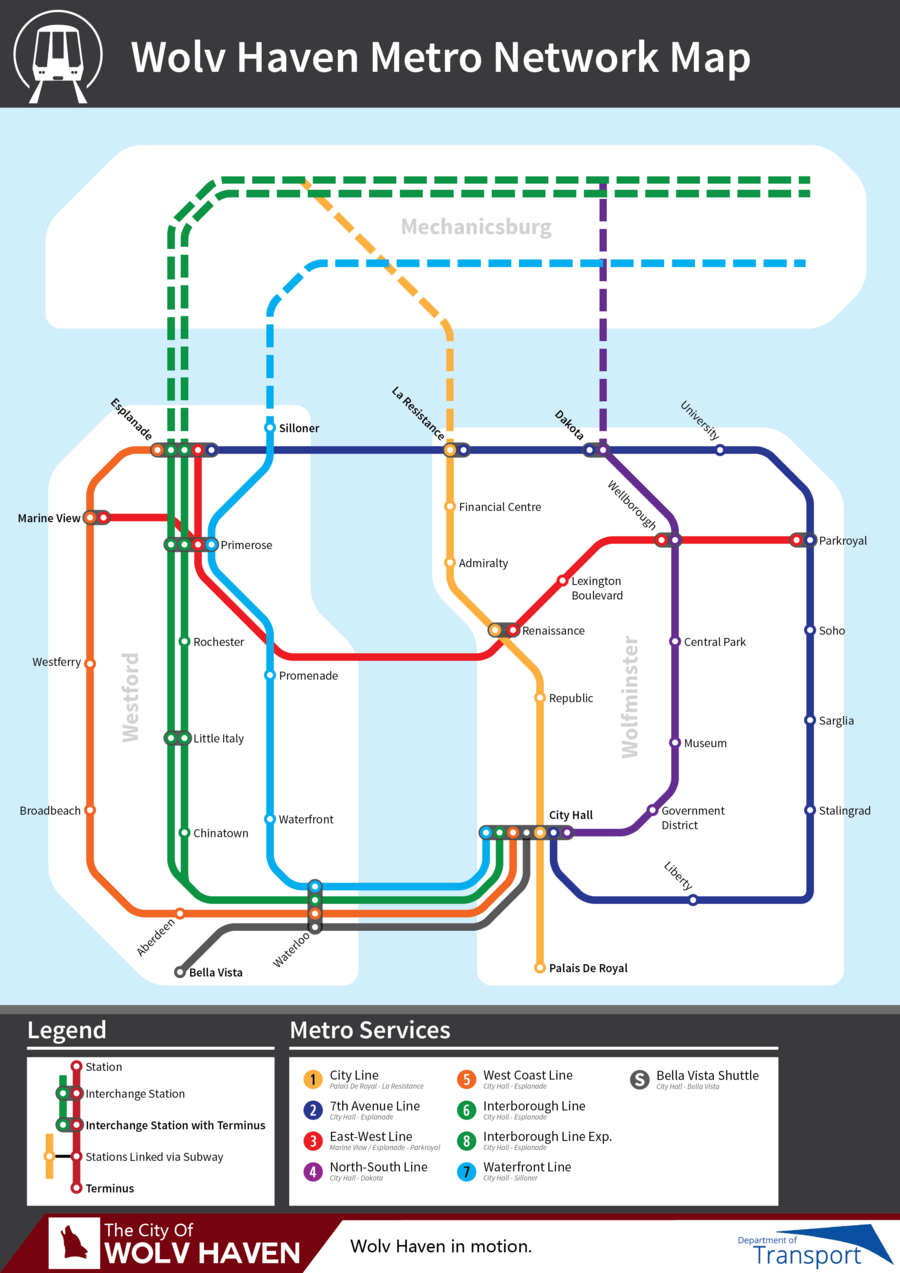 Previous System Maps
Architecture
The WolvHaven Metro is one of WolvHaven's architectural Treasures. Featuring grand, magnificent and spacious stations (such as City Hall and Palais De Royal), the WolvHaven Metro is one of the architectural achievements of the city. The design of the stations follow closely to the stations of the Pyongyang and Moscow Metro as they are grand, large, spacious and open.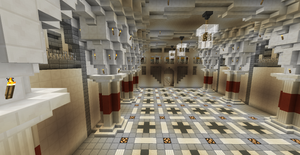 Each station is different in the WolvHaven Metro. The stations are designed by SilverWolv with the help of Green_Adventurer and TheSitherin for the interiors. This gives server citizens opportunities to contribute something to the city and help out as there are usually a lack of opportunities for which users can join the project and help out.
Trivia
There are reports that there is an unused station on Line 4 (sometimes known as "IDA request stop" or "IDK request stop"). It is not known if it exists.
Phase 1 of Line 1 (Palais De Royal-Nation) is completely straight.
Line 2 once ran only as far as Sarglia.
Nation Station was once a terminus for Line 1. After Phase 2 of Line 1, it was deemed useless as it's location to Renaissance Interchange was too near.
Nation Station was also a functional station but as of January 22 2016, It was converted into a Metro Museum and a Cafe.
Lines 6 & 8 are based off the New York City subway (B) and (Q) lines on the Brighton line in Brooklyn.
Line 1 stations are grander than most other stations, largely inspired by Moscow Metro's extravagant stations.
The line colors for lines 1-6 coincidentally correspond to the colors of billard balls.